Newsroom
Categories

Get inspiration from vegetables - a few recipes you just must try!
With vegetables and vegetable-based products you create almost anything to eat - for lunch or dinner, at weekdays or weekends. But we know that sometimes it might be hard to come up with the ideas. So, we don't mind giving some tips. Colorful and delicious - fantastically red beetroot risotto with some Crispy veggie patties Beetroot really is a fine vegetable. Besides containing lots of good stuff, it gives a nice touch for the looks of food too. With Crispy veggie patties you complete the delicious all-vegetables portion. Why make it hard? Keep it simple and make a burger Who doesn't like burgers? Yeah, that's right. If you also want your burger to be vegan, we have the answer. Crispy veggie pattie with avocado, bell pepper and really nice artisan bread. Keep it simple. No-meat balls <3 tomato-mozzarella sauce Tasty tomato sauce with mozzarella is a classic. With No-meat balls you can make a delicious vegan version of it. Easy and convenient food with guaranteed satisfaction. Enjoy!  

10 reasons to use frozen vegetables
Frozen vegetables bring the harvest season to your kitchen every day of the year. Vegetables are frozen when they are at their best.   1) Frozen vegetables remain fresh, with high quality and are healthy, as they go for further processing as soon as possible after harvest. Finnish peas travel from the field to the freezer in about two hours. 2) Frozen vegetables last longer than fresh vegetables. For example, Apetit Peas will stay fresh for at least 18 months in freezing -20 degrees Celsius. 3) The climate in Finland is favorable for vegetables: long summer days and bright nights add flavor and enchance quality. Thanks to the fast production process, the good, fresh taste of the vegetables is preserved even when frozen. 4) Vegetables are frozen when they are at their best - you can enjoy all the vegetables as they are harvested, regardless of the season. 5) Frozen vegetables are easy to use: they are pre-cleaned, peeled, chopped and steamed. 6) Everything in the frozen vegetable bag is edible. You will not pay for inedible parts such as shells or stumps. 7) It is easy to make choices when following a special diet and keeping track of your weight, since the packaging of frozen foods contains detailed information on ingredients and nutritional content. 8) Apetit frozen vegetables are prepared in such a way that nutritional value, freshness is preserved as well as possible. 9) Frozen vegetables are of high quality. Apetit closely monitors the production processes of the vegetables it uses, from field to frost. 10) Using frozen vegetables saves you time, money and effort, and you can be assured of the quality and health of your products. +1) No food waste! With frozen products, you can always pick up just the amount you need.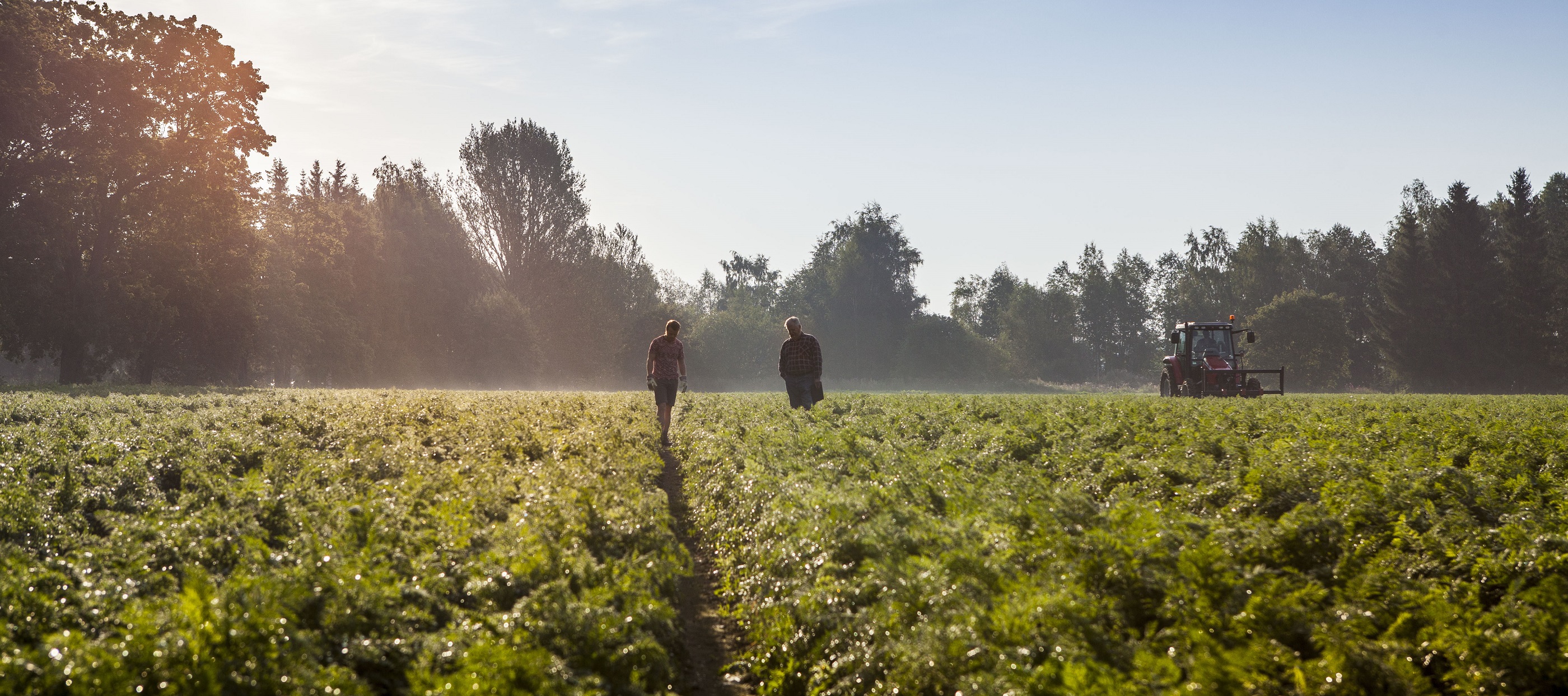 Räpi experimental farm
Apetit's experimental farm in Köyliö in the Satakunta region of Finland actively contributes to research that promotes the contract growing of plants. With a history of more than 60 years, the experimental farm cooperates with contract growers, universities and research institutes. It develops cultivation methods and varieties that support sustainable cultivation ecosystems. Continuous development The Räpi experimental farm engages in close cooperation with various parties. Experimental cooperation with Apetit's contract growers, on their fields, plays a significant role. The new knowledge and expertise developed at Räpi is transferred to Apetit's approximately 100 contract growers. Tests are carried out to identify the best, tastiest varieties that are suitable for outdoor growing and the manufacture of frozen products. The experimental farm invests in new methods and technologies, such as a cultivator that makes use of satellite locationing and machine vision to enable weeding as close to the surfaces of the plants as possible. In addition, protective nets for carrots have been tested to prevent pests. The experiences have been good: protective nets have long useful lives, and their use considerably reduces or eliminates the need for chemical pesticides. One of the field sections on the experimental farm is dedicated to organic cultivation. In the future, the experimental farm will develop organic cultivation methods to enable industrial-scale organic cultivation. The delicious taste of Apetit frozen vegetables comes from expert farming and superior varieties The Räpi experimental farm is constantly testing new varieties to find those with the best flavour, texture, nutritional quality and suitability for freezing for use in Apetit products. Apetit's product development also guides choices related to plant varieties and contract growing. The popularity of Apetit Kotimainen, a product range focused on vegetables grown in Finland, supports introduction of new varieties to contract growing in Finland. The results of the research at Räpi experimental farm are used in the development of the Apetit responsible farming method to which all of Apetit's contract growers are committed. The responsible farming method is used to manage plant-specific cultivation instructions, quality and product safety, and other factors. For example, plant protection measures are only used when necessary and with due consideration. The Räpi experimental farm plays a key role in Apetit's Responsible Farming method. Räpi has a place in history of Finnish cultivation The written history of the Räpi experimental farm began in 1156, when it was part of Lalli Manor. Apetit has owned Räpi since 1954, when the farm was sold to Länsi-Suomen Sokeritehdas Oy, which had been established in Säkylä in the early 1950s. Apetit's operations then began in 1954 as an experimental farm for Länsi-Suomen Sokeritehdas Oy and they have continued uninterrupted to the present day, with Räpi serving as an experimental farm for Lännen Tehtaat and now Apetit. Today, as one of only a few company-owned experimental farms in Finland, it contributes to the development of agricultural expertise in Satakunta.
---